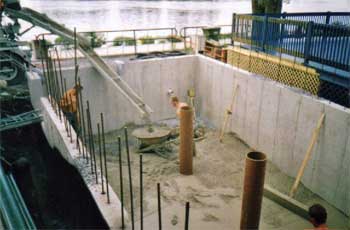 MANNING Construction's concrete pouring division offers the installation of new footings and foundation walls. Also, the formwork and pouring of structural and concrete slabs on grade whether it be for a patio, terrace, basement or garage floor.
We can also break and remove an existing concrete garage or basement floor that is damaged and install a new metal reinforced floor with drains and proper slope if required.
Additional options include waterproofing of the foundation using different types of membranes to seal the foundation against water infiltration, we can also insulate the foundation from the outside or concrete slabs from underneath to keep the cold out and the warmth inside which will reduce heating costs.
In addition, we construct the formwork, the installation of metal reinforcing and the pouring of concrete sidewalks, patios and borders for driveway and parking lots whether it be for residential , commercial or industrial requirements.