We can offer a full range of landscaping products and services for your next project, from Pave-Uni or natural stone patios , driveways and walkways , creative rock gardens and attractive planting areas to grass sodding, irrigation and lighting systems. We have the experience, personnel and equipment to plan and complete any size landscape project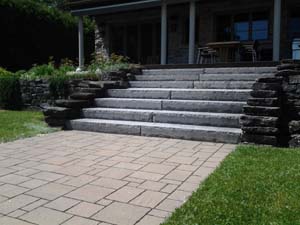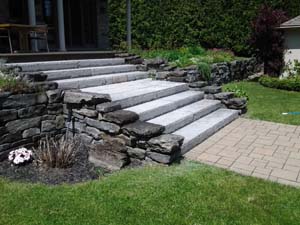 ---
Our team will make your property the envy of your street and it will also help raise your property values.
Residential & Commercial Landscape Design and Development Services
We are proud to be a leading landscape servicer to home owners, businesses and professional organizations throughout the Montreal area.
Irrigation Installation and Maintenance
We have certified irrigators on staff who, through proper installation, repair and monitoring of your irrigation system keep your landscape looking its best.
Advanced French drains & Drainage Specialists
Proper French drains & Drainage is essential to your entire property. We offer several advanced French drains & Drainage solutions to resolve your French drains & Drainage problems.
Custom Stonework and Masonry Services
We specialize in custom stonework, from Retaining & Seawalls to paving. The use of stone adds natural beauty and durability to your property.
Ponds and Water Features
Water features add visual beauty as well as the cooling, soothing sound of flowing water. We specialize in custom water features such as ponds, water falls and fountains.
Landscape Lighting Services
Let us provide a landscape lighting plan that acknowledges the unique qualities of your home and landscaping.
Fence, Deck and Arbor Design and Installation
Set your private, safe haven apart from the rest of the world. We will design and install your custom fence, deck, or arbor.